Soccer match between Belgium and Sweden suspended after deadly shooting in Brussels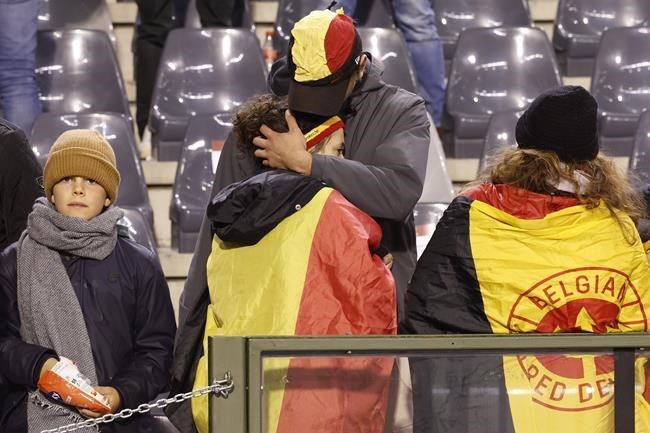 BRUSSELS (AP) — A soccer match between host Belgium and Sweden was suspended at halftime Monday after two Swedes were killed in a shooting in central Brussels before kickoff.
Fans remained inside the King Baudouin stadium after the European Championship qualifier was stopped and chanted "All together, All together," with thousands of supporters from both sides also shouting "Sweden, Sweden!"
The match was being played around 3 miles (5 kilometers) away from the shooting, with more than 35,000 fans attending. The teams were tied 1-1 at halftime.
"Following a suspected terrorist attack in Brussels this evening, it has been decided after consultation with the two teams and the local police authorities, that the UEFA EURO 2024 qualifying match between Belgium and Sweden is abandoned," UEFA said.
Belgium's crisis center raised the level of threat in Brussels and its region to the highest and asked citizens to avoid unnecessary travel.
The Swedish FA said in a message to Swedish supporters on site that the Belgian police wanted supporters to stay in the arena for security reasons.
"Keep calm and take care of each other," the FA said. "Our thoughts go out to all the relatives of those affected in Brussels."
Belgian Prime Minister Alexander De Croo suggested the attack, which took place more than an hour before the match, was linked to "terrorism." It was not immediately clear if the shooting was linked to the international uproar over the Israel-Hamas war.
"A horrible shooting in Brussels, and the perpetrator is actively being tracked down," said Interior Minister Annelies Verlinden, adding that she was joining government talks at the National Crisis Center.
A police official, who spoke on condition of anonymity because they were not authorized to speak to reporters, said the two victims were Swedes.
"We can't play football in this situation. We and Belgium completely agree that we shouldn't play," Sweden coach Janne Andersson told Swedish website Fotbollskanalen.
___
AP soccer: https://apnews.com/hub/soccer
Samuel Petrequin And Raf Casert, The Associated Press