'Little dreams come true': A key moment for local pianist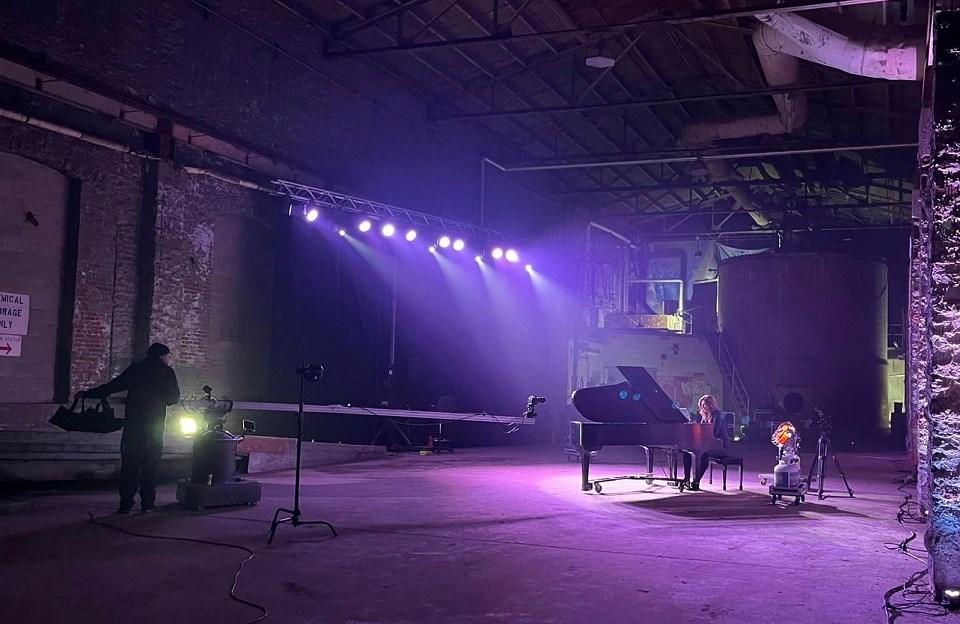 Andree-Ann Deschenes receives Canada Council support for stunning new multimedia project
The Canada Council for the Arts' mandate is to "foster and promote the study and enjoyment of, and the production of works in, the arts."
Recently receiving a substantial grant, pianist Andree-Ann Deschenes latest project clearly checks all the boxes required under the mandate.
Deschenes' project is a collaborative multimedia endeavor, featuring original music by international composers, live performances, a recorded album, a documentary, and a music video.
"This grant means that we can complete all the parts of this project the way we originally envisioned it," says Deschenes.
The artist admits that without the financial support, the project may have simply been a digitally released album.
"That would have been great too, but being 100 per cent funded through Canada Council for the Arts and the City of Sault Ste. Marie's Arts & Cultural Assistance Program means that we basically get all our little dreams come true in terms of turning this into a multi-disciplinary art thing."
Deschenes notes that at the heart of this project is the concept of collaboration.
"I started by collaborating with seven different international composers to create this album … It's really important to me that they're as happy with the project as I am," she says.
"I've made sure to keep them updated as we're moving through the process so that they know what's happening with their music … without them and the wonderful music they wrote, none of this would be possible."
Deschenes premiered those original compositions at a live concert in early May.
Almost all of the composers were able to attend the livestream of the event.
Deschenes recently wrapped up the recording sessions of those same compositions at The Loft recording studio over the summer with Greig Nori.
This was Deschenes first application to the Canada Council for the Arts program, so the grant notification also really came in at the right time and gave her team a "big energy" boost.
"[Receiving the grant] gave me a bit of validation in terms of what we were trying to do and that maybe the whole wasn't as insane as I thought it was … I don't think I would have received as much funding without all the collaborative aspects of the project which is definitely appealing from a grant officer's perspective … It's a testament to the artists that we have here in Sault Ste. Marie," she says.
According to the organization's online records, the Council's grant is the largest awarded to an artist in Sault Ste. Marie since 1998.
"I think it's an indication that we're on the right track…From the moment I was notified, it was full steam ahead."
With the recordings complete, the album was recently sent for mixing and mastering to Paul Tavenner in Los Angeles, with whom Deschenes has worked before.
Deschenes was able to commit to commissioning Steph Nowotarski for the cover art.
Finally, Deschenes, Dan Nystedt, and Andrea Pinheiro continued working together on the visual aspect of the project.
Andrea Pinheiro is involved in the conceptual and visual aspects of the projects.
"Andrea has seen this whole project unfold from the very beginning … What is really unique about her is her capacity to come up with the craziest idea that seems absolutely impossible but then she somehow breaks it down in a way that you trust her enough to just go along with it and things fall into place."
Deschenes attributes the vision for the documentary to Nystedt.
"The documentary is definitely the brainchild of Dan Nystedt," she says.
"It all unfolded pretty organically. I was just chatting about the fact that I had commissioned a few people to write piano pieces for me and that peaked [Dan's] interest. From there we had a few random conversations about how cool it would be to interview these composers, and film the process of learning the music and preparing for the concert … His enthusiasm for the project definitely kept me going when I was losing motivation or momentum … He's been incredibly patient with capturing footage for months on end… I think the idea is to document everything from the beginning until we get a final product. I don't want to speak to Dan's vision for this, but it ties into the idea of 'journey,' which is a huge part of the music in this project."
This led to discussions about filming the recording sessions that took place at The Loft with producer Nori.
"He worked super hard to make sure that I was happy with everything," she says.
"It definitely felt like he was, and still is, as invested in the album as I was. I don't think Greig would mind me saying this, but solo piano recording is not exactly something he had tons of experience with. But he really went above and beyond with research and consultations to make sure we got the exact sound I wanted."
Deschenes, who moved to Sault two years ago, realizes that this project is not something that would have likely happened had she not come to this city.
"I've said it before, but I had never heard of Sault Ste. Marie before I got the job at Algoma University and certainly didn't expect for all of this to happen," she says.
"Honestly I don't know how I got so lucky to find all these people in one city and have them all be involved in this thing … I am not entirely sure what I did to deserve such an amazing team of people that all decided they wanted in on this, but I don't think this could've come together the way it did without these specific individuals."
For her, the friendships of all the participants in the project made this special.
"I don't think I'd get the same result if I had just hired professionals that I didn't have any sort of relationship with." 
Recently, the music video was shot in the Board Mill building near the conservatory.
"It's definitely a crazy undertaking in many ways because we have to move a grand piano in there and deal with the fact that there is no power, light, or heat in there," she says.
"The concept of this had to do with many different layers of 'old vs. new,' essentially using the buildings as a physical manifestation of uncertainty, antiquated traditions in music, and artistic in-between-ness … It's also a very cool way to tie in the history of the city itself." 
With this project, Deschenes herself is now part of the story of the community.
"I don't think many people truly realize how incredible the arts and culture community is here, and how valuable it is," she says.
"In the best way possible, this city is home to some of the craziest people I've had the pleasure of working with. It's so refreshing to see how supportive other artists are of each other. I was welcomed pretty much right away and I still can't believe I get to do this thing with the people I get to do it with."