'I knew I could be competitive': Sault grappler earns silver on world stage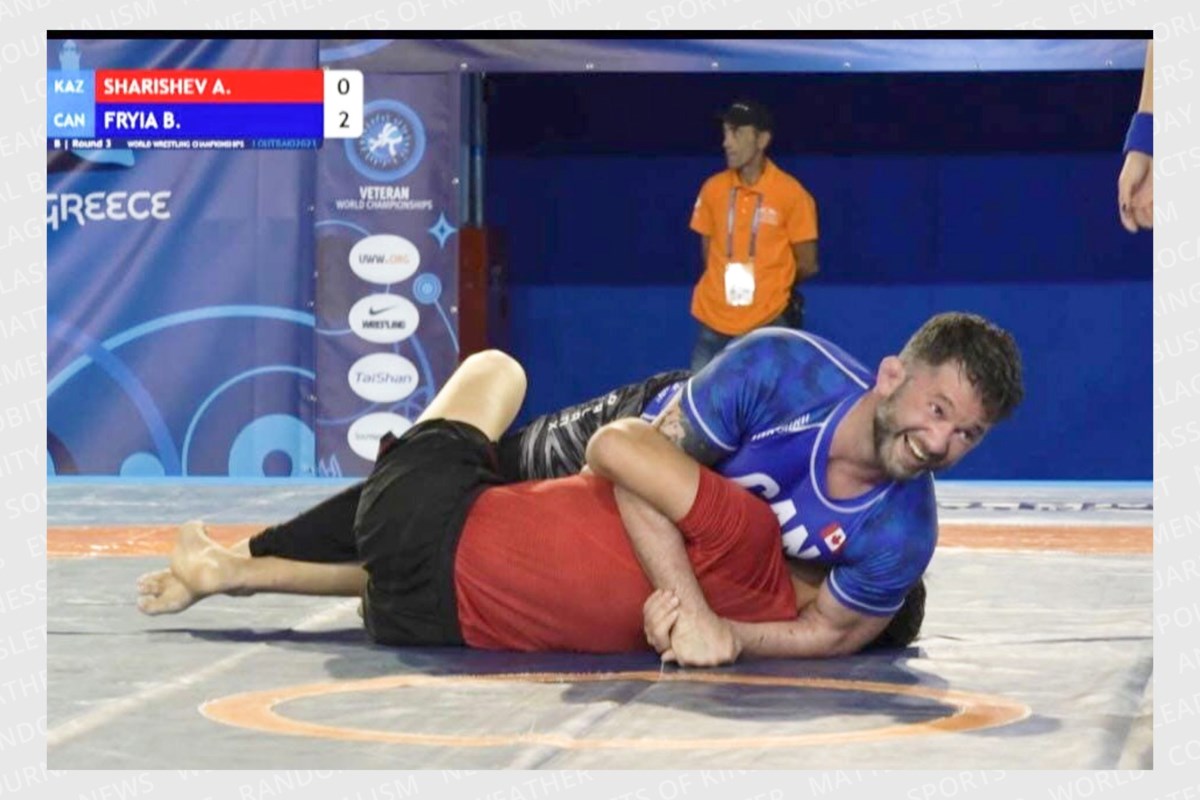 Steel City MMA owner and coach Brent Fryia makes it to the podium while representing his country at the Veterans Grappling World Championships in Greece
Brent Fryia is coming back home to Sault Ste. Marie with a silver medal after going to the mat with some of the world's best grapplers over 40 years of age. 
The owner of Steel City MMA represented Canada during this year's Veterans Grappling World Championships in Loutraki, Greece Oct. 14, winning his first three matches of the tournament before coming up short against Ukraine's Maks Zhuravlov in the gold medal round.   
"It was a lot of preparation that went into it," said Fryia, speaking with SooToday from Greece on Monday. "I definitely set the goal of coming home with a medal. I knew I could be competitive."
The gold medal showdown between Fryia and Zhuravlov was a rematch of their second round bout earlier that day. But this time, the Ukrainian was able to eke out a win over his Canadian opponent during a down-to-the-wire contest.  
"The last flurry, the last exchange of action was a little crazy. The referees weren't sure at first how it was going to be called," said Fryia. "They had to go to instant replay, and there were some challenges. 
"I remember sitting on the mat, and me and my Ukrainian opponent were kind of looking at each other, shrugging our shoulders — I think neither of us knew how it was going to play out," he continued. "We had both kind of given it everything we had, and we were just waiting to see what the result was."
Fryia says he sustained a tear in his costal cartilage — which is basically the cartilage holding the ribs together — right at the end of the final match. He'll still be involved in on-the-mat coaching when he returns to the Sault, but training probably won't be in the cards for some time.   
"It's not a super uncommon injury, especially in grappling sports. But it is painful," he said.
Fryia has been training in earnest since earning a berth to the worlds after winning the Canadian national championships in Waterloo, Ont. this past March. 
Fryia credits his personal trainer, former grappler Ray Gowlett, for developing his off-the-mat training program, which included weightlifting, strength training and conditioning. He's also grateful for the help that he's received from people at Steel City MMA in preparation for the event. 
"I'm lucky — at my gym right now, there's so many great coaches and training partners that I really didn't have to go elsewhere to get my on-the-mat training," he said.
Fryia says the messages of congratulations he's been receiving from people in the Sault for his silver medal performance on the world stage has been "incredible" so far. 
"I think it's just a testament to the community that we've built — and not just me, but all my other coaches and the members at the gym," he said. "I think that really shows."
The 41-year-old says another appearance at the Veterans Grappling World Championships in the future is definitely on his radar.  
"I was confident in my skills and I knew I probably would be competitive," said Fryia. "But there's always that doubt in the back of your mind. So coming here and especially getting some wins over what are considered the dominant teams in the sport makes me feel like yeah, I can win a world championship."